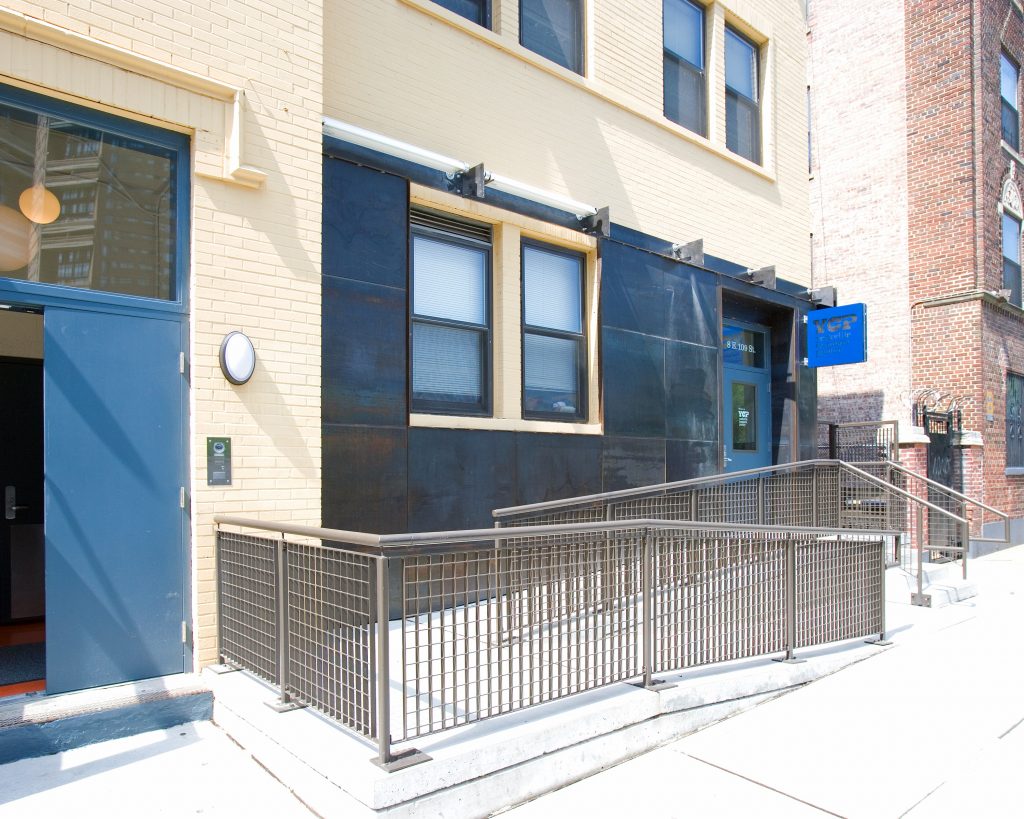 Architect:  Watson & Associates
Kel-Mar was the general contractor for this not-for-profit project in Spanish Harlem. The mission of this institution is to provide groceries and hot and cold meals to people in need, as well as to the homeless in this neighborhood. A two-phased project, it involved transforming an existing gymnasium with a floor above into a three-story building.  Kel-Mar accomplished this by adding a floor into the double height gym.  Kel-Mar was also responsible for the coordination and installation of a brand new commercial kitchen and storage area, and a full service emergency generator. Other work included the construction of an open plan administrative area and private office space. Finally, Kel-Mar's scope included the addition of a new stainless steel paneled exterior façade to the lower floors; creation of a concrete handicap accessible ramp; and a new entrance into the facility.
We installed new entrance with fieldstone columns to match the existing stone structure. We completed the pointing of the new columns with protrusion grout to match the existing pointing.  New walkways leading into the building were installed. Work included the restoration of the bell tower cupola including wood restoration and new copper metal cladding. Removal of asbestos flooring, pipe lagging and selective roof shingles throughout the building to prepare for the new installation of materials. We installed a water source heat pump system, including a 70 tonne water tower, heat exchangers and boilers, with the total system controlled by a BMS control system. There was a new fire alarm control panel, with new fire alarm system throughout the building. Including a new nurses call system in each of the residential rooms. Additional work included a new sprinkler service and standpipe system brought into the building, a new underground electrical service to replace the existing overhead service with a new 2000 amp service. We completed the modernization of one existing elevator to bring ADA compliant and installation of one new additional elevator. We also installed a new commercial kitchen, new dining facilities and new lounge.